GET HELP PLANNING THE TRIP YOU DESERVE
YOU DESERVE TO GETAWAY...
when is the last time you felt completely relaxed?
For most of us, there's not enough time in the day to get everything done. Those 2 bins of laundry from 3 days ago still need folded. The kids need help with their homework. You've made a quick dinner because you keep getting home late, due to a mound of work assignments…
By the time you straighten up, clean dishes and put the kids in bed, you're EXHAUSTED. It's only 8pm, you can't go to bed yet, it's too early!
SO, WHAT DO YOU DO?
You grab a glass of wine, plop on the couch (in your favorite spot, where you always sit of course!) and turn on that TV series your friend at work said is a "Must Watch". And just like last night… 5 minutes in and you're dozing off. It's 10pm now so you let the dog out one last time and walk to bed, wondering when things will get a little easier…. and telling yourself "I NEED A BREAK"!
Meanwhile, life continues to feel like a broken record. Same stuff, different day. You desperately need to getaway but you can't…
Afterall, how are you suppose to make time for a getaway if you don't have enough time already?
You feel like you can't get away because…
NO MORE EXCUSES, IT'S TIME TO GETAWAY...
Are you ready to find your paradise?
We can help! Our travel agency specializes in understanding what people want (or need) and we help you get there. Your next getaway might be white sandy beach with a drink in your hand, while for others it may be the chance to finally check "Tour Italy" off the bucket list…
Our team has been helping clients just like you for over 20+ years…
Planning a trip comes with a lot of questions, such as:
WE CAN HELP YOU WITH THAT
ARE YOU READY TO FINALLY RELAX?
How to start planning your getaway
What is your travel type?
With just a few questions, we're able to learn a lot about our clients based on their preferences, likes and dislikes, which helps us recommend the best destinations for your getaway. Our goal is to make sure we send you on a trip that includes everything that matters most to you.
To get started, think about these 3 simple questions. We use these questions to instantly narrow down your search for your next trip and we can provide you with all the information you'll need to get your book tripped and every step in between. Once you've created your "Travel Type", click the button below to contact us and we will help you plan and book your entire getaway.
STEP 1) What are you going away for?
STEP 2) Where do you prefer to go?
THE TRIP OF YOUR DREAMS IS WAITING...
Are you ready to get started?
The #1 challenge with planning your trip is to just get started. A lot of clients wait months, even years before they finally say "YES" to booking a trip. Life is short and you'll want to enjoy it while you can.
This is why we're so passionate about what we do… Because we get to help clients plan the trip of their dreams and make a lasting memory. We're here to help you get started so you can:
WHY BOOK YOUR TRIP WITH DREAMERS TRAVEL?
We Specialize in Destination Weddings, Beach Weddings & Weddings at Sea
Our travel agency offers "next level" experience, knowledge and support. With over 20+ years of experience, we've learned all the ins and outs of what it takes to plan a trip. We believe your trip is not just another vacation, and we take great care to make sure it is the perfect experience for you. It's okay if you change your mind or have two pages of questions, we are known for our patience.
We offer the BEST planning for you and your guests.
Free Consultation
Group presentations to help inform your guest of your big day
Make all travel arrangements for family, friends, and guests
Hand-delivered travel documents (within Maryland)
We have created a 24-hour concierge service to make sure everything goes smoothly.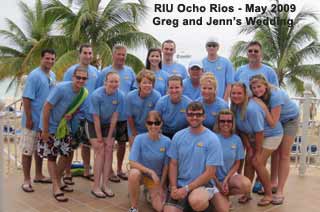 At Dreamers Travel, EVERY client on a trip receives our owner's personal cell phone number. This will give you peace of mind while traveling. Missed your plane? Lost in Punta Cana? We have you covered. Mark's friendly voice will answer when you call.
We continually study and visit all the resorts so we can recommend the one that is right for you. Every year we spend countless hours visiting the properties so we can help you choose your perfect location. Who has the most secluded suites and the wildest party scene? We strive to know it all.
We have hand-chosen a resort collection that we believe offers the ultimate in pampering, romance, and activities. We are an All-Inclusive Resorts specialist with Sandals/Beaches, Secrets/Dreams Resorts, Couples Resorts, El Dorado, Excellence Resorts, Barcelo, Iberostar, and many more.
You're at the end of the page... are you still not ready to click above and get started?