FROM SEARCH TO SANDY TOES, WE OFFER EXPERT TRAVEL PLANNING RESOURCES AND SUPPORT
Helpful Travel Planner Resources
Use the resources below to get pointed in the right direction
One of the benefits of using our travel agency is the extensive level of knowledge, experience and resources that we're able to offer our clients.
WANT TO GIVE THE GIFT OF TRAVEL?
WHY BOOK YOUR TRIP WITH DREAMERS TRAVEL?
We Specialize in Destination Weddings, Beach Weddings & Weddings at Sea
Our travel agency offers "next level" experience, knowledge and support. With over 20+ years of experience, we've learned all the ins and outs of what it takes to plan a trip. We believe your trip is not just another vacation, and we take great care to make sure it is the perfect experience for you. It's okay if you change your mind or have two pages of questions, we are known for our patience.
We offer the BEST planning for you and your guests.
Free Consultation
Group presentations to help inform your guest of your big day
Make all travel arrangements for family, friends, and guests
Hand-delivered travel documents (within Maryland)
We have created a 24-hour concierge service to make sure everything goes smoothly.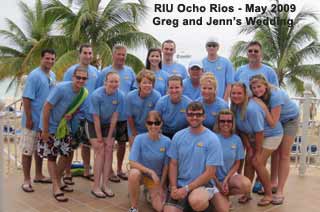 At Dreamers Travel, EVERY client on a trip receives our owner's personal cell phone number. This will give you peace of mind while traveling. Missed your plane? Lost in Punta Cana? We have you covered. Mark's friendly voice will answer when you call.
We continually study and visit all the resorts so we can recommend the one that is right for you. Every year we spend countless hours visiting the properties so we can help you choose your perfect location. Who has the most secluded suites and the wildest party scene? We strive to know it all.
We have hand-chosen a resort collection that we believe offers the ultimate in pampering, romance, and activities. We are an All-Inclusive Resorts specialist with Sandals/Beaches, Secrets/Dreams Resorts, Couples Resorts, El Dorado, Excellence Resorts, Barcelo, Iberostar, and many more.