Why Choose Our Travel Agency?
CHOOSE DREAMERS TRAVEL FOR YOUR NEXT AMAZING ADVENTURE
At Dreamers Travel, we are passionate about what we do. Our passion touches each area of our travel planning, including service, resort knowledge, and making your dreams come true.
At Dreamers Travel, we will take as long as you need to plan your trip. Our travel agency believes your trip is not just another vacation, and we take great care to make sure it is the perfect experience for you. It's okay if you change your mind or have two pages of questions, we are known for our patience. (view testimonials).
WE DON'T CHARGE SERVICE FEES. At Dreamers Travel you can get it all. We offer amazing service and you don't have to pay extra for it!
---
---
We offer the BEST planning for you and your guests.
Free Consultation
Group presentations to help inform your guest of your big day
Make all travel arrangements for family, friends, and guests
Hand-delivered travel documents (within Maryland)
We have created a 24-hour concierge service to make sure everything goes smoothly.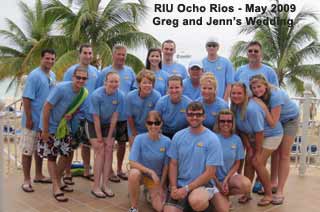 At Dreamers Travel, EVERY client on a trip receives our owner's personal cell phone number. This will give you peace of mind while traveling. Missed your plane? Lost in Punta Cana? We have you covered. Mark's friendly voice will answer when you call.
We continually study and visit all the resorts so we can recommend the one that is right for you. Every year we spend countless hours visiting the properties so we can help you choose your perfect location. Who has the most secluded suites and the wildest party scene? We strive to know it all.
We have hand-chosen a resort collection that we believe offers the ultimate in pampering, romance, and activities. We are an All-Inclusive Resorts specialist with Sandals/Beaches, Secrets/Dreams Resorts, Couples Resorts, El Dorado, Excellence Resorts, Barcelo, Iberostar, and many more.
Choosing the RIGHT travel planner for your trip will make the difference between an amazing experience and a fair or even a bad one. View our testimonials
More reasons to use the best of Maryland's travel agencies:
Special Hours
In-home appointments for your convenience
Evening/Weekend hours to better serve YOU
Available to you by phone until 10 pm EST and weekends to answer your questions
Unlimited consultations until we plan YOUR perfect Experience
Competitive Prices and Specials
FABULOUS Vacation Send Off Package VALUED at over $150
Price Guarantee- we will match your price and STILL offer all our services to you
Complimentary Vacation Registry
NO service fees
Trip Help
We set and confirm your wedding date for you with the resort
Help and support the planning of your trip to completion
We look forward to the opportunity to help you plan the PERFECT vacation and create ever lasting memories!
Click to request a free consultation.
Call us today: 410.239.9424 or toll free 877.249.9424
---